MERCHANDISE PLANNING
In today's retail world, Merchandise Planning is dynamic and continuous. Too many external forces are affecting the retail environment. These include
• More knowledgeable and more fickle consumers
• More intense competition on the High Street
• Longer and more erratic opening hours
• More seasons and faster merchandise turn round
• More complex sourcing from low cost countries
In addition, external events (wars, terrorism, protest marches, travel disruptions) are regularly impacting the daily and weekly retail routine.
In this scenario, although the sophistication of computer systems to 'crunch the numbers' is vital, what is paramount is an intelligent approach to the human side of merchandising, and the decision making process. This applies both pre-season and in-season.
How much money are you losing through poor merchandising?
Fashion retailers do not know how much, BUT they know it must be quite a lot
The loss is composed of
• Lost sales caused by being out of stock
• Lost gross margin from forced markdowns caused by
excess stock
• Interest paid on excess stock caused by poor intake
planning
This can hurt your profit by half - 50% profit reduction. Do you want to find out more about
• What you are losing?
• How to fight merchandising loss?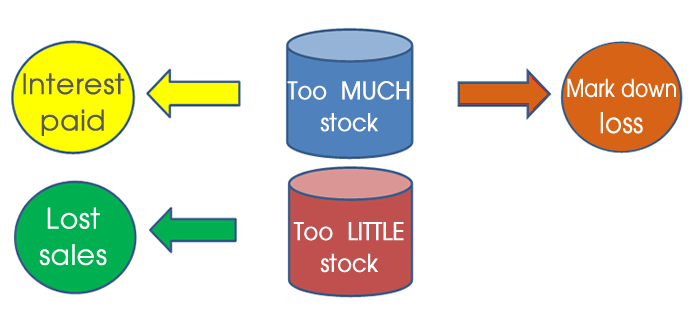 MERCHANDISE PLANNING PROJECTS
Aquascutum International Ltd., UK
Interim Operations Director
Merchandise Planning: Reviewed and restructured department
IT Systems: Implemented new integrated computer systems [1996]
Merchandise Planning: Merchandising system for upmarket UK chain Aquascutum [1988]
Boston Consulting Group, UK
Comparison of their client's approach to merchandising with that of a UK department store [2012]
Collectif Vintage Clothing, UK
Buying + Merchandising processes, systems + organisation review [2018]
Greenwich Group, UK
Merchandise Planning Manager; Implemented new integrated computer systems [1998]
House of Shanghai, China
Range & Merchandise plans for internet marketing start-up [2008]
James Meade, UK
Review and implementation of mail order catalogue planning [1999]
Laura Ashley, UK
Reorganisation of buying and merchandising operations [1992]
Liberty PLC, UK
Commercial Director responsible for merchandising and logistics
IT systems Implemented new integrated computer systems store wide [2001 - 2002]
Merchandise Planning Restructured multi-channel planning system [2001]
Supply Chain Decreased warehouse and distribution costs [2001]
Improved own brand supply planning [2000]
London Red Hot Fashions, UK
Product development & merchandising principles for Chinese clothing start up [2007]
Macys, Canarias
Merchandise Planning system for an expanding retailer of upmarket brands [March 2010]
Design & installation of a WSSI retail system to manage and improve control of sales and stock plans
Marks & Spencer, UK
Supply Chain Logistics; International sourcing cost comparison study [1993]
Merchandise Planning; Buying and merchandising training for the UK's leading clothing retailer [1987]
ONE WORLD, USA
Strategic positioning study for a US young womenswear brand with strong links to Chinese manufacturing [2014]
Peacocks, UK
Buying and merchandising review for UK discounter [1995]
Retail Technology Limited, UK
Merchandise Planning for footwear retailers [2008]
TM Lewin, UK
Supply Chain Review of warehouse replenishment procedures [2004]
IT Systems Epos and head office systems search for this shirt retailer
Merchandise Planning Principles of systems to plan both new and replenishment styles and fabrics for own label retailing [2003]
Wear Art, Scandinavia
Expansion into the UK market for a branded supplier of art themed casualwear [2015]
Woolworths, UK
New product group start-up for UK variety store [1994]